HOME
WHO BEGAN THIS PROJECT
EXHIBITIONS 2012
EXHIBITION 2011: HERSELF
EXHIBITION 2011: FIELD OF JEANS
FILM
NEWS
2016 and earlier work

SCIENCE BACKGROUND AND FAQ's

PRESS
CONTACT
Join the debate
2016
Field of Jeans and catalysed Limb Bud Dress, the tour continues with RSA Midlands ending Feb 13th 2016
Click here for more info
Also for Gaite Lyrique Paris see Helen Storey Foundation tumblr
and for other news posted throughout the year.

For other Helen Storey Foundation Projects


Catalytic Clothing is a partnership
between The University of Sheffield,
University of the Arts London /
London College of Fashion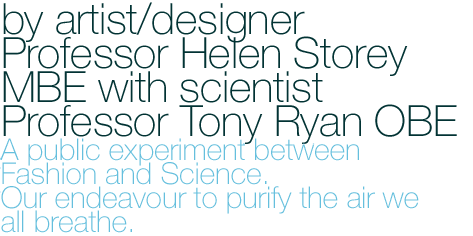 Catalytic Clothing seeks to explore how clothing and textiles can be used as a catalytic surface to purify air, employing existing technology in a new way. It is the brainchild of artist / designer Helen Storey and chemist Tony Ryan – people from very different worlds whose minds have come together over recent years in highly successful art/science collaborations.

A series of cultural and art interventions will bring this forthcoming technology into the public domain, seeking to engage you, in helping us shape our world for the better.
Join us. Shape your world.

Autumn 2013: Catalytic Clothing is currently with the Research and Development departments of major laundry brands. The team will update on progress in the coming months.
A small scale Field of Jeans will be on show at Thomas Tallis School this autumn as part of the school's 'Catalytic Learning' programme. Thomas Tallis are piloting the Catalytic Clothing concept, and the inspiration of an artist and a scientist working together for public benefit, as a learning tool