HOME
WHO BEGAN THIS PROJECT
EXHIBITION 2011: HERSELF
EXHIBITION 2011: FIELD OF JEANS
EXHIBITIONS 2012
FILM
SCIENCE BACKGROUND AND FAQ's

PRESS
CONTACT
TUMBLR
For news see Helen Storey Foundation tumblr
2017
Currently new data is being collated to investigate approaches to delivery.
Information will be posted here when it is available

For other Helen Storey Foundation Projects


Catalytic Clothing is a partnership
between The University of Sheffield,
University of the Arts London /
London College of Fashion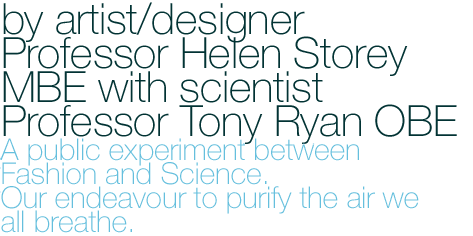 Catalytic Clothing seeks to explore how clothing and textiles can be used as a catalytic surface to purify air, employing existing technology in a new way. It is the brainchild of artist / designer Helen Storey and chemist Tony Ryan – people from very different worlds whose minds have come together over recent years in highly successful art/science collaborations.

Between 2011 and 2016 a series of cultural and art interventions will bring brought this forthcoming technology into the public domain, seeking to share ideas which invesitgate how we can shape our world for the better.
In 2017 we are collating new data for the next stages.